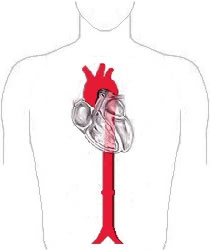 The aorta is the largest artery in the body, originating from the left ventricle of the heart and extending down into the abdomen where it branches off into two smaller arteries, the common iliac arteries.
Ad blocker interference detected!
Wikia is a free-to-use site that makes money from advertising. We have a modified experience for viewers using ad blockers

Wikia is not accessible if you've made further modifications. Remove the custom ad blocker rule(s) and the page will load as expected.