Asperger syndrome or Asperger's syndrome is an autism spectrum disorder.
Physiology
Edit
Asperger syndrome is primarily believed to affect the frontal and temporal lobes of the brain.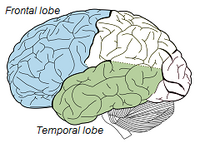 Whilst no specific cause of the syndrome is currently known, several genes have so far been identified that are thought to contribute to the disorder, or increase the likelihood of an individual developing it.
Ad blocker interference detected!
Wikia is a free-to-use site that makes money from advertising. We have a modified experience for viewers using ad blockers

Wikia is not accessible if you've made further modifications. Remove the custom ad blocker rule(s) and the page will load as expected.